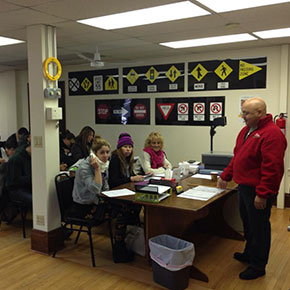 8 Hour Safe Driving Course
Connecticut state law requires any person that has never held a CT state driver's license to take an 8 Hour Mandatory Safe Driving Course. This class includes 4 hours of the effects of Drugs and Alcohol and 4 hours of safe driving practices in a classroom environment. After completing the class you will receive a CS1 certificate. This must be presented to the DMV. Register ahead of scheduled class to assure yourself a seat in our Hartford location. For the convenience of our customers, we do accept walk-in's providing there are seats available.  Fee $150.00
One day or two day classes available.
Cash and all major credit cards accepted (MasterCard, Visa, Discover, American Express and debit).
Walk-in's welcome providing seats are available. Registration starts 30 minutes before scheduled class time.
Additional services offered:
Private instructions of behind-the-wheel training with a licensed CT instructor is available 7 days a week by appointment. (Must have a valid CT driver's permit) $80.00 per hour
We can also provide you a vehicle for your road test with a minimum of two hours of behind-the-wheel training.
Testing Package Two hours behind-the-wheel training and use of vehicle for road test at the Wethersfield DMV (must have valid CT driver's permit) $295.00
Any questions, please call for details: (860) 296-0095
› Schedule Learners Permit Knowledge Test
› Practice Learner's Permit Test
› CT Drivers Manual